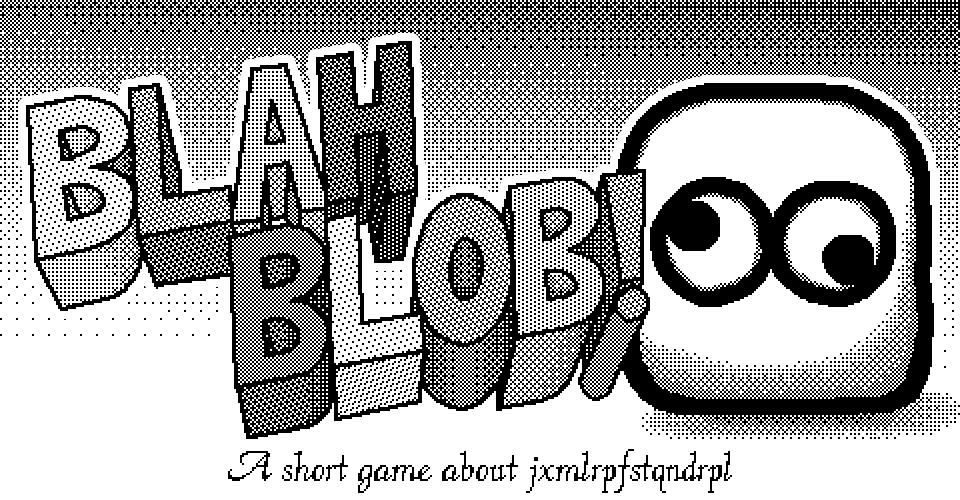 Blah Blob!
Blah Blob! is a short platformer game made in HyperCard.
You control the titular Blah Blob as you bounce through twenty levels of increasingly devious obstacles.
Play the whole game straight through trying your best not to explode, or speedrun the levels individually or even the whole game and try to beat your best time. Perhaps even have some fun while doing so! (Please note the Blah Blob developer disavows all responsibility for excessive fun or frustration experienced as a direct result of or in conjunction with playing the game.)
A Bit About The Backstory of Blah Blob
What is HyperCard, you ask? Why it's an old and beloved app (or "application" to use 1980's Macintosh lingo) that made it fun and easy to create your own software. It was developed by Apple Computers for early Macintosh computers and originally released in 1987, and there are still many who fondly remember it to this day.
The author of Blah Blob learned HyperCard as a child because "he wanted to make his own Super Mario" and gradually learned how to push it to its very limits. Now, thirty years later, he has returned to HyperCard to reconnect with those earlier days, have some fun making a game again, and seeing what he can manage to get it to do now that he's not constrained by such trifling obstacles as "slow processor speeds" or "software that wasn't meant to do this sort of thing".
Blah Blob is more than just an anachronism. There is no point at which it made sense to release it.
It could have been made back in 1990 when HyperCard 2.0 was released, but on any Macintosh at the time it would have run at an unplayable speed of around 2 frames per second.
In 1999 it could run great on a PowerMac with a G4 processor, but by that point most would have considered it too late to make a game with purely monochrome graphics — HyperCard never had full support for color — on computers that routinely displayed millions of colors, or contemporaneous with game consoles that had full 3D graphics.
Perhaps it makes the most sense that it was made and released in 2023, roughly twenty five years after HyperCard sadly lost its relevance in the world, at a time when some might appreciate its nostalgic qualities.
How To Play Blah Blob in 2023
(or later, or earlier if you have a time machine)
The download links available on this page have Windows, macOS, and Linux releases the game bundled with a custom build of Mini vMac, an open source classic Macintosh emulator (maintained by Paul C. Pratt). All you have to do is run the executable. It should play at full speed on any computer with a reasonably modern CPU.
If you want to use a controller, I recommend an app like JoyToKey or Xpadder to map keyboard keys to controller buttons.
The actual HyperCard stack itself can also be downloaded and played on a classic Macintosh, provided it's fast enough to run it. I recommend a PowerMac G4 or newer with HyperCard 2.3.5 or later. (HyperCard 2.2 and earlier are not PPC native and therefore do not play the game at full speed on a PowerMac.) Make sure to give HyperCard at least 3000K of memory otherwise the game will crash!